Intelligent robot science and education integrator
Teaching Scientific Research Competition presentation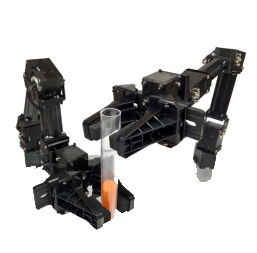 Hand-held robotic arm
X52
The hand-held manipulator is a fully open source robot operating platform with excellent performance, with six classic morphological deformations; complete secondary development, supporting ROS, matlab simulation, C++, Python and other programming; simple and easy to use, allowing users to get better Robot experience. The end tools of the robotic arm can be replaced according to user needs. Except for the metal connectors, other skeletons of the body can be 3D printed.
Features
Software and hardware are all open source

Provide a full set of open source software, CAD drawings, hardware assembly drawings and public resources for development. The source code of all application examples in the initial form is provided, and the user can also start using it with zero basis.
Consumer grade price, industrial grade performance

0.2mm control accuracy, 46RPM speed, 0.7kg dead weight, low cost, high repeatability, maximum payload is 500g.
Perfect secondary development support

Complete SDK and open communication protocol, support: ROS, Matlab, C++, Python, Processing, ARDUINO, STM32, multiple iterative upgrades of software and hardware, long-term software maintenance and update, and can be easily integrated into mobile robots.
Rich hardware expansion

Modular assembly, six forms of deformation, the end can be replaced with pen sleeves, vacuum suction cups, etc. as needed. It can easily realize functions such as visual sorting, multi-arm collaboration, writing and drawing.
Multiple control methods

Keyboard, handle, drag RVIZ, Processing, etc., memory learning (teaching reproduction), master-slave control, remote control.
Technical index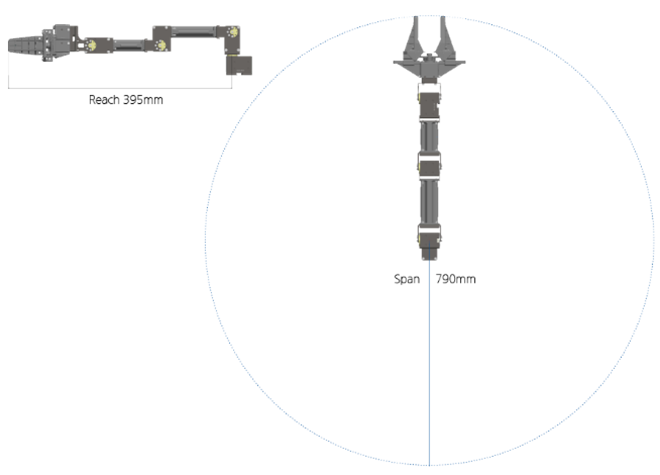 Technical parameters
technical parameter

| | |
| --- | --- |
| Driver | Dynamixel XM430-W350-T |
| Input voltage | 12 V |
| Degree of freedom | 5 (4 revolute joints + 1 gripper) |
| Maximum load | 500 g |
| Repeatability | ±0.2 mm |
| Maximum joint speed | 46 RPM |
| Weight | 0.7 kg |
| Reachable range | 380 mm |
| Arm length | 479 mm |
| Claw stroke | 20~75 mm |
| Protocol | TTL level multipoint bus |
| Software support | ROS、Dynamixel SDK、Arduino、Processing |
| Main controller | PC、U2D2 |
| Aluminum base | 300*300*10 mm |
| Lithium battery | 3400 mA |
| Experiment box | 310*310*230 mm |



Picture
See our robots working in the most demanding environments for researchers around the world.