Intelligent robot science and education integrator
Teaching Scientific Research Competition presentation
Turtlebot3 Unmanned vehicle
Burger/Waffle-Pi/Labox
Waffle Pi is a new mobile robot in the Turtlebot3 series, which was officially released in February 2018. Waffle Pi adopts a retractable frame structure, uses Arduino-based OpenCR as the driver board, and uses a powerful Raspberry Pi 3 single-board computer, equipped with 360° Lidar, Raspberry Pi camera and 9-axis inertial measurement unit, with high precision The Dynamixel steering gear can easily achieve accurate control of mobile robots, and can be used for research and exploration in the fields of SLAM, positioning and navigation, mobile operation, automatic driving, item identification, and tracking.
Features
ROS operating system

Officially designated ROS platform, an entry-level platform for ROS beginners. It adopts the world's popular open source platform for robots with abundant resources. Software information is fully open to customers. Provide "ROS Robot Programming" supporting experimental teaching materials and course handouts ppt.
Light weight, high bearing capacity

Hamburg has a weight of 1KG and a load capacity of 15KG; Waffle Pie has a weight of 1.8KG and a load capacity of 30KG.
Multi-sensor information fusion integration

360 degree lidar, raspberry pie camera (waffle pie has), 9-axis inertial measurement unit, use raspberry pie and OPENCR control board, support Arduino。
Friends series

Applications such as tracked, balanced cars, four-wheel drive racing cars, and four-legged robots can be realized by modifying hardware modules.
Open source hardware

Provide a wealth of peripheral interfaces to connect various sensors. Modular drive allows easy replacement, maintenance and reorganization. PCB, BOM, 3D CAD and other data are fully open to customers.
Technical index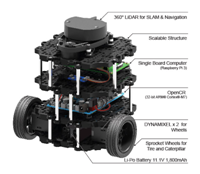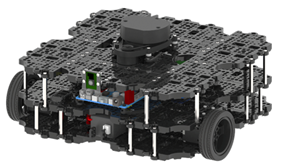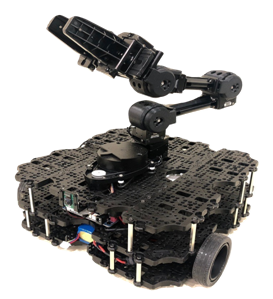 Technical parameters
TurtleBot3 hardware configuration comparison table

Name

Burger

Waffle Pi

LABOX

Degree of freedom

2

2

7

Maximum translation speed

0.22 m/s

0.26 m/s

0.26 m/s

Maximum load

15kg

30kg

30kg

Robotic arm

——

——

OPM-X

operation hours

2h

2.5h

2.5h

Dimensions (L x Wx H)

138mm x 178mm x 192mm

281mm x 306mm x 141mm

281mm x 306mm x 521mm

Self weight (+SBC+battery+sensor)

1Kg

1.8Kg

2.5Kg

Single Board Computer (SBC)

Raspberry Pi 3 Model B

Microcontroller (MCU)

32-bit ARM Cortex®-M7 with FPU (216 MHz, 462 DMIPS)

remote control

——

RC-100B + BT-410 Set (Bluetooth 4, BLE)

RC-100B + BT-410 Set (Bluetooth 4, BLE)

Lidar

360° Lidar LDS-01

camera

——

Raspberry Pi Camera Module v2.1

Raspberry Pi Camera Module v2.1

Inertial Measurement Unit (IMU)

Three-axis gyroscope, three-axis accelerometer, three-axis magnetometer



Fittings
Configure a custom platform. Explore all accessories.
Picture
See our robots working in the most demanding environments for researchers around the world.