Intelligent robot science and education integrator
Teaching Scientific Research Competition presentation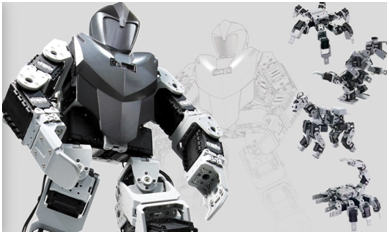 18 degrees of freedom deformable robot
KIMCHI
KIMCHI is one of the world's best-selling multi-purpose multi-joint robot kits. It is suitable for college students' basic programming, mechanical engineering, dynamics and other in-depth robot learning. It is widely used in robot competitions such as boxing, racing, avoiding obstacles, performing tasks, and work development. Its excellent performance has been confirmed. At the same time, it is also widely used as an adult DIY robot. ROBOTIS KIMCHI basically provides all the parts necessary for the production of the robot, and the robot can be completed and operated without additional parts.
Features
Multi-degree-of-freedom open source robot

A variety of multi-joint robots can be realized through KIMCHI a kind of teaching aid, from 1 degree of freedom robot to 18 degree of freedom humanoid robot, and 29 kinds of robot assembly instructions and example programs are provided.
Polygonal modular robot

Modularized joints can easily realize the combination and separation of various joints. Each joint contains modular CPU, drive motor, reducer, and sensor components. The unique ID of each joint can be corrected by group control. The universal combination of connectors and steering gear can help users to assemble various types of robots. Users can also quickly execute the designed actions through a convenient programming interface. accomplish.
Easy to program and operate

The robot program is realized by RoboPlus Task and Motion software. The modular steering gear does not use general ABS materials, but uses lightweight engineering plastics. Realize the skill form of multi-directional connection. Provide excellent examples of humanoid robots that can maintain a perfect gait during walking, and provide installation drawings and example programs for 3 kinds of multi-joint humanoid robots.
Scalable and easy to control

It can be expanded to install a variety of external sensors such as gyroscopes, absolute distance sensors, and infrared sensors. Provide master-slave bluetooth module and controller and RC-100A wireless remote control, which can realize bluetooth communication. The wiring is in the form of Daisy Chain, which makes the appearance of the robot more concise.
Technical index
Technical parameters
technical parameter

| | |
| --- | --- |
| Assembly instructions and example programs | 29 |
| Maximum degree of freedom | 18 |
| Humanoid robot installation drawings and example programs | 3 |
| Main components steering gear reduction ratio | 254:1,Contains modular CPU, drive motor, reducer, and sensor components |
| Locked-rotor torque | 1.5 Nm(at12V,1.5A) |
| Minimum resolution | 0.35° |
| No-load speed | 59rpm(at 12V) |
| Communication | Support Bluetooth and Zigbee wireless communication, use USB data cable to connect with computer |
| Sensor | Possess sensing equipment such as gyroscope, absolute distance sensor, infrared sensor, and wireless module extended remote control |
| Software | Provide GUI-based comprehensive robot programming software, using robot software for C-style programming and motion teaching (including USB interface) |



Picture
See our robots working in the most demanding environments for researchers around the world.